So you just found out that you are pregnant for the first time. Let me first congratulate you! And, you are probably wondering how you are going to manage your life over the next 9 months since you are facing so many changes. I'm sure you've all heard the number one challenge is getting your baby to sleep through the night. Check out my post on A Guide to a Better Nights Sleep for You and Your Baby. I remember finding out about my first pregnancy and remember being so worried about every little thing. It's a scary thought but one of the best things that will ever happen to you. I will help you out by giving you 5 pieces of advice since I have already been through this life change not once but twice, and give you a few recommendations on things you must have to be prepared before baby comes (hint: Look at this one first it is absolutely an essential, you have to have it!)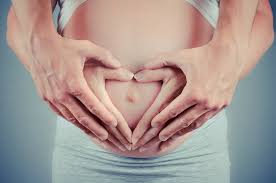 1. Don't Waste Too Much Money On Maternity Clothes
The first thing you may have thought about doing after making the discovery that you are pregnant is looking for maternity shops. Let me tell you that before you go on a shopping spree, keep your wallet closed. Maternity clothes are expensive. All you have to do is invest in 2 pairs of comfortable pants, a few long shirts, and a belly band which will let you wear your regular pants! Check out the reviews on this one it was my favorite! That's it. I lived in the Jinson maternity fitted tanks and black leggings, it's the only outfit I felt comfortable in and it showed off my bump. And just look at some of the cute styles they have here!

2. Stay Away From Google
Whatever you do, do not Google worrisome symptoms that your friend or cousin had while pregnant. If you worry about over everything, and you end up Googling the worst case pregnancy scenarios, you will stress yourself. And remember that stress is very bad for the unborn baby. If worrisome symptoms do come up, then you cross that bridge when you get there. I would always worry at some point of my pregnancies and what gave me a piece of mind was a baby heartbeat monitor. To hear the beautiful sound of your babies heartbeat is everything you need to put your mind at ease. Check out this heart beat monitor, I used this on a daily at one point of my pregnancy!

Oh and if you're anything like me and you're already nesting now isn't a bad time to start getting your diaper bag together! Check out this post to see my essentials for your newborn diaper bag!
3. Call Your Doctor If You Have Worrisome Symptoms
If you are unable to keep anything down or your fatigue is overwhelming, then that is when you need to call your doctor. Again, even if you are dealing with these issues, do not Google it. Your doctor will help you and treat the issues accordingly.

4. Get Yourself A Body Pillow
The further along you are in your pregnancy, you will be less comfortable. That is why you will need a body pillow to help you find a comfortable spot when you are much larger. I used the Bluestone Pregnancy Pillow, click here for some of the great reviews to see why! I was obsessed. You get really sore and uncomfortable towards the end. It's hard to find a comfortable sleeping position. This pillow did wonders for my comfort.

5. Don't Obsess Over Weight Gain
You probably already know that you will gain weight during your pregnancy, which you want! You want to gain a healthy amount of weight which is about 25 to 30 lbs for a singleton, and about 40 lbs for twins. Don't get too worked up over the gain, live a little and veg out. Just stick with the foods that you know are safe to eat. Don't forget to take your folic acid and prenatal vitamins, click here for the lowest price on them! I always took mine at night because they would make me nauseous in the morning.

Now you have a good idea of what steps to take during your pregnancy. I've always loved being pregnant. I always felt so healthy and happy. Enjoy yourself during this magical time. And again, don't stress out over anything unless you are given a reason to call your doctor. In the meantime, love this transitional stage in your life and get ready to bring in a new life in 9 short months from now! Don't forget to check out my Newborn Must- Have Essential Items for your new baby so you are prepared for you new bundle of joy.