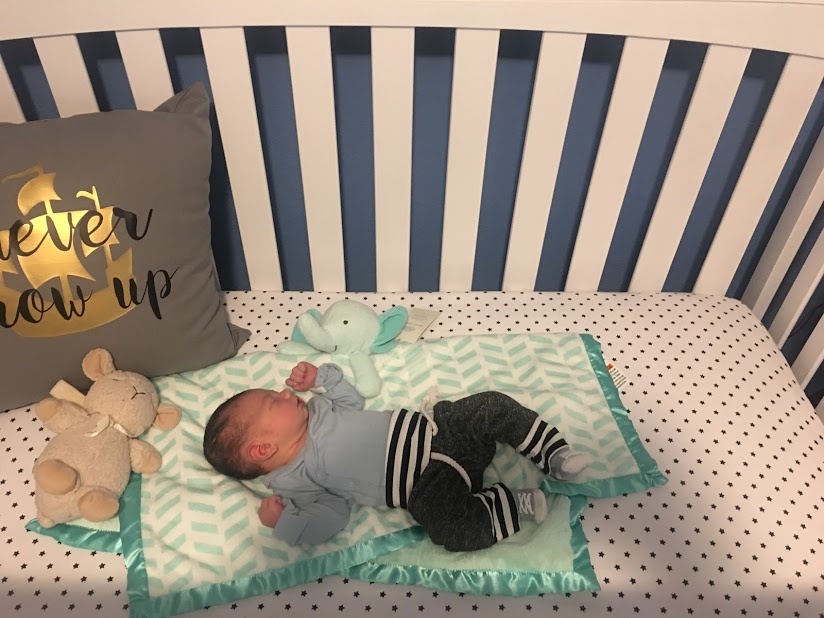 So when I found out I was having a boy the second time around the first thought in my head was what nursery theme am i going to do. The nursery is my favorite thing to when I am pregnant. I am usually nesting like a crazy woman so this is something I like to put all my efforts into. My first son had a Twinkle Twinkle Little Star themed nursery, it was adorable. But this time around I wanted to take it one step further and that's when I decided to do a Magical Peter Pan themed nursery.
So when I came up with the theme I called my Dad and collaborated this awesome theme with him. I'm so lucky cause i have a Dad that has amazing woodworking skills. It's been a hobby of his for years and he always succeeds in turning my ideas into a reality. I send him a few pictures that I like and he gets to work. What an awesome Papa!!
I hope you enjoy the pictures of Hendrix's Magical Peter Pan Nursery!
My talented Dad made the Big Ben Clock, City and the Hendrix sign, along with the stars with his bare hands. I bought the Neverland Map on Etsy then turned it into a canvas from Canvas on Demand. The Peter Pan Mobile is from Etsy as well as the wall decal above the crib. I also bought the Never Grow Up Pillow cover on Etsy.
The 8 drawer white dresser is from IKEA, it was the best purchase for us. I actually had this dresser for my first son and handed it down to Hendrix. It is the best dresser to organize all the millions of baby things that you need.
The crib is from Amazon, its a Graco 5-1 convertible crib in white, we love it, my first son Bennett has the same one in gray. Check out the price here and take a look at the different colors.
The Windsor Glider and Ottoman also was a purchase on Amazon, I rock my baby every night on this chair. Love it. Check it out here!
The finishing touches to my baby's room were the Twinkle Cutout Blackout Curtains. Blackout curtains are a must-have for every nursery for sure. Look at the different colors and patterns here. Also the Twinkle Fairy Lights. These lights will complete your baby's nursery magical ambiance, Click here to see them now!
Let me know what you are doing for your baby's nursery themes in the comments below!