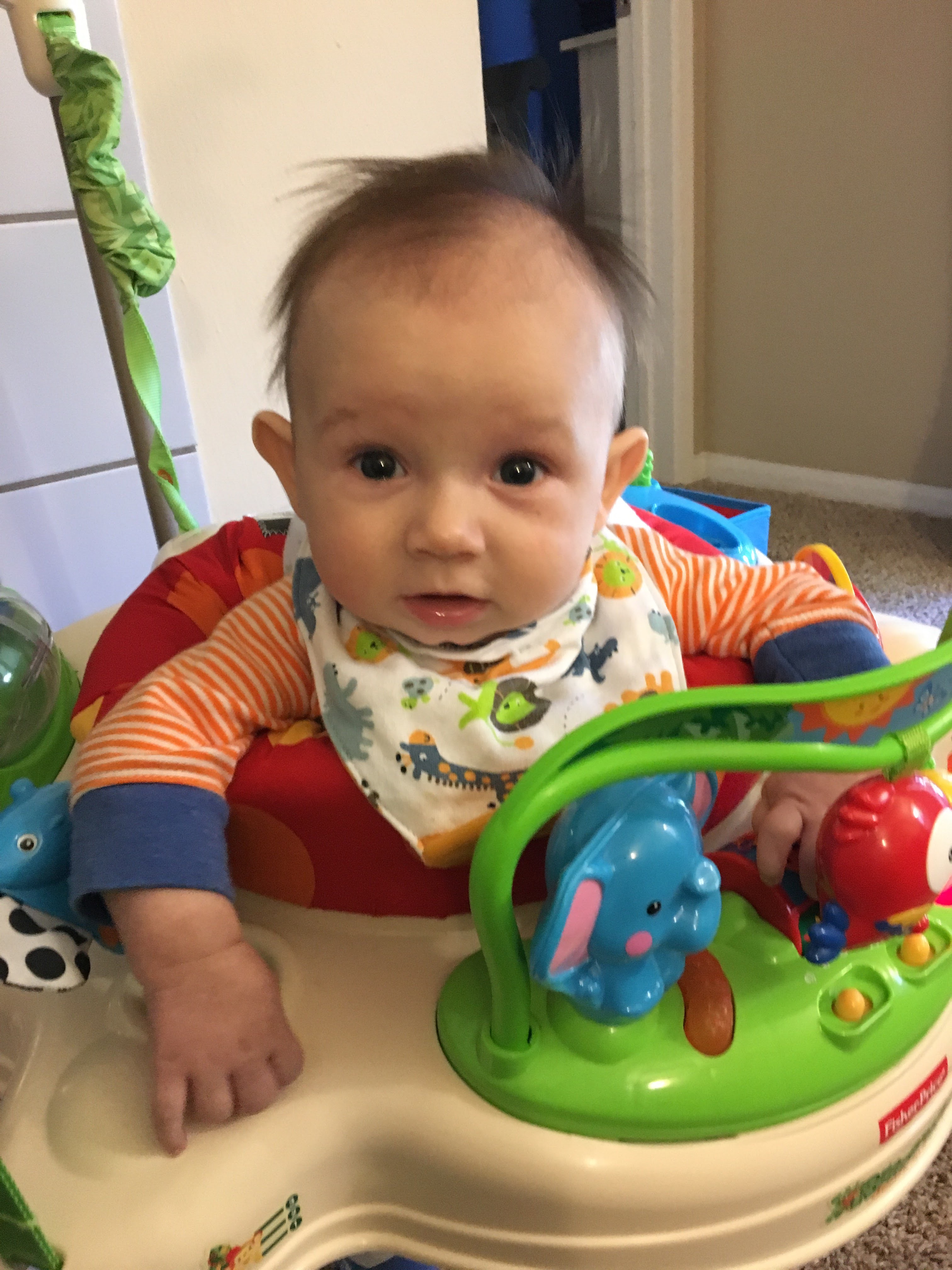 Baby things every mom needs
Having a baby is not for the faint of heart.  While being a parent is the best thing in the world, I don't think any new parent is prepared for all that parenthood entails.  So finding a baby product that makes their life easier can feel like a tiny miracle. And any new parent knows how wonderful that can be. I made a list of Newborn Baby Must-Have Items, but I wanted to do Must -Have Items for my baby now.
Hendrix is almost 5 months now and I have a list of products that I want to share with you. I hope I make all you Mommy's and Daddy's happy.  I had most of these products for my first son that is how I knew they were essential baby items. Here is our list of must-have baby products that will make life with 3 Month Plus baby a little easier. And definitely a little bit sweeter.
Skip Hop Silver Lining Activity Gym.
This is almost like their own personal cloud. The activity gym is not only one that can keep your little one busy and engaged. It is super cute too!  Check out what other moms are saying here. With its soft colors and fabric it will go with any home decor and look adorable too. A light-up star, cloud squeaker, bird rattle, and musical sheep hang above their tiny head. Each item interesting to play with in its own way.  And this item is one that will grow with your little one for some time.
4moms MamaRoo
For the techy parents, this baby item is so cool!  Quite the miracle maker!  You will be surprised at how content and fast asleep your baby fall when you put them in this.  With 5 different and unique motions and speeds you can also control this item with your Bluetooth enabled phone. You can control the motion, speed, volume and music without ever having to get up.
Check out other cool stuff this swing does here.  Perfect if you are in the middle of making dinner and you need to change the speed of the swing when your little one is getting fussy. You can also fully recline the seat for maximum comfort for baby.  Your little one may never want to leave this chair.
Evenflo Exersaucer Door Jumper, Owl.
When your little one can hold his head up pretty comfortably on their own your little one will be ready for this fun doorway swing. Both my sons loved/loves this product. It is another must-have so you don't always have to hold your little one. It fits most doorways and has a perfect spring to do all the jumping their heart desires. Check out the pricing here, it is so worth the price. What is even more perfect about this product is that its easy to clean. Simply put the machine-washable seat along with your other laundry.
Fisher-Price Rainforest Jumperoo.
Need to get things done around the house?  Need a bit of time to yourself. Then this is a parent must have.  Your little one will be entertained for quite some time with this fun toy.  This jumperoo comes with all the bells and whistles, click here to see more details on this. Comfy and cozy for sure!  You know that not only will your little one be safe but they will be engaged with all these fun toys that surround them. 
My first son was obsessed with this thing when he turned 3 months and my second is obsessed as well. What makes this item so great, is that it is easy to take down and move it out of the way. We always took this traveling with us when we knew we would have to put him down in a hotel room.  It can condense and be put in a closet when your little one is no longer using.
I hope you enjoyed my list of Must- Have Baby Items for 3 Months Plus, let me know what you think down below in the comments!