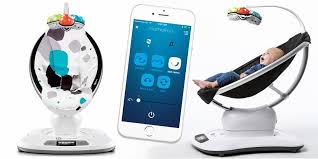 I have to say that the 4moms MamaRoo Baby Swing was an answer to my prayers because I found the perfect swing to keep my little one content. This baby swing is definitely it. The reason that this product is so unique is that it really does a great job of mimicking how I rock, swing, and bounce my little one.
What you will get out of the 4moms MamaRoo Baby Swing is that it comes with 5 different movements. These movements are really soothing, and my son absolutely loves it. When I was looking for the best product to calm my little one, I was told that the 4moms MamaRoo Baby Swing was really amazing by other moms who have used it. I really did not know what to expect considering I did not know too much about the 4Moms line. However, after really looking at it and reading about its features, I saw that the 4moms MamaRoo Baby Swing had some different features that were really cool.
The 4moms MamaRoo Baby Swing features adorable names for the 5 types of movements that can be used. The car ride is the first movement.This movement goes up, back over, and then back down, and then up again. I mean, if you feel the need to take your fussy baby on a car ride in order for him to calm down, this swing will take care of that for you without you having to run out and spend your energy, and gas!
Then the next movement is the kangaroo which goes up and down in the same direction, and then there is the tree swing which literally swings the baby back and forth.
The next movement is called the rock a bye and that one swings up, over, and then it goes back and forth, which is good for calming really fussy babies. However, if none of these movements soothe your baby, then there is another one that the 4moms MamaRoo Baby Swing features and that is the wave. This movement swings the baby in a circular direction without any bouncing. Many babies are quite soothed by this one.
And what is amazing about these movements is that it can be done at any speed. However, you will find a movement and speed that works well for your baby.
This baby swing is also quite compact as it measures at 33 inches long x 19.5 inches wide x 25.5 inches high, and is 19 lbs. You can fit it at any corner of the den or where ever you decide to place it. The other great thing is that the 4moms MamaRoo Baby Swing can be controlled by apps on your smartphone through Bluetooth, which comes in handy.
I wish I had the  4moms MamaRoo Baby swing for my first son. Every mom needs a break. I definitely need a minute to myself, I need to be able to put the baby down for the sake of my sanity, for sure. This swing allows you to do that. And that alone is why I give this product two thumbs up!!